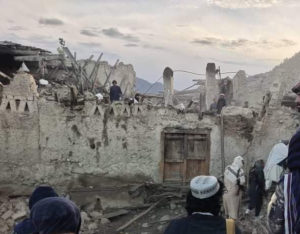 Late in the evening of June 21, shortly before 11 p.m., a major earthquake occurred in the provinces of Paktika and Khost in southeastern Afghanistan. At least 1,000 people are now reported killed and more than 1,500 injured, but the numbers are likely to increase. Many houses were destroyed.
We sent a coordinator to the earthquake area on June 22 to find out what is most needed and how we can help. We will definitely distribute food and perhaps provide funds for necessary medical assistance. Since the takeover of power last summer, only a few international organizations have been working in the country. We have already carried out various food distributions, including large ones, and at the moment we are doing this in Kandahar and Herat.
Our country director and our Afghan staff are currently trying to coordinate the aid so that there is no duplication, but that aid can be provided effectively.
In the town of Khost, about 30-40 kilometers from the epicenter, we maintained a factory for roofing material for house construction for many years. We are trying to get them going again so that people can rebuild their homes after the destruction. We have installed earthquake reinforcements in houses before.
For this we need your support. Please help us with your donation. Keyword: earthquake paktika
For more news, click here.